Since today is Teacher's Day, The Sensintrovert is in the mood of playing a good teacher here by teaching you little kids out there about an animal- the chameleon.
Kids, you all know what a chameleon is? This is how it looks like...
Aww...isn't it cute? Image
source
.
But beware, kids. One second you see it green, another second, you will see it red or whatever colour.
Adults, for some serious definition on chameleon, check it out
here
.
Now, kids, back to the chameleon thingy again. You want an example in real life, or even closer to home in Malaysia? Let's see these screenshots (and also check out the links) and do not blink your eyes.
Wah!!! Must take action!!!
Link
.
Aiks! Hater now?
Link
.
MiaoHAKAM! No teeth!
Link
.
Aikss...brandish red book now???!!!
Link
.
Loose cha...Oooppss...wrong picture here.
"AMOK!!!"
Link
.
"STUPID!!!"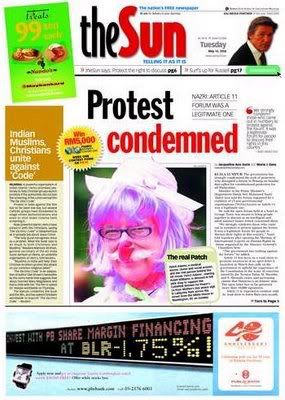 The Sun Front Page 16th May 2006. Also, link
here
.
That's all for today, kids. Remember to respect and pay tribute to your beloved teachers. Oh, and love thy manimals also.
And the word '
minority
' is seriously fucking (yes, I'm using unmasked vulgar words here, bear with me kids) offensive. We ain't no fucking minority!!!