I was betting big
at Ladbrokes
that Beebs will feature
Tun M vs. Pak Lah's War
. But I got it wrong. Instead, the revival of the 'dead' MSC was featured instead.
Link.
Backlog? Better late than never? Sorry, Beebs. You are two months too late, matey. We (including UK listeners) deserve fresh news, frankly.
Read Jeff's
post
.
Jeff featured.
"It was visionary," says Jeff Ooi, a telecoms consultant and one of Malaysia's most influential bloggers.

"One, we had put together a impressive financial incentive package," says Mr Ooi. "Two, [Malaysia promised the] facilitation of easy flow of manpower; three, to have a good infrastructure for investors that may come from all over the world."

"What went wrong was the devil was definitely in the implementation," says Jeff Ooi. "We have prohibitive immigration laws which makes an application for a working visa for expatriates so difficult.

"There's a big gap when it comes to the human resources supply from the local universities."

"We are looking at MSC like a supermarket," says Jeff Ooi. "We build it and people will come and the property developers will make some money."
Lim Keng Yaik: "Internet is not my business"
Malaysia's Communications Minister Lim Keng Yaik declined to be interviewed. His office told the BBC that the internet was not his responsibility. The trouble is it certainly it is not anyone else's.
"Cigar-wielding, Donald Trump-esque Jamaluddin Jarjis"
The cigar-wielding Mr Jamaluddin has a touch of Donald Trump about him, albeit with better hair.

He wants tech sector CEOs to think of Malaysia as their home from home in Asia and just to underline that point he is rolling out the red carpet.

"My priority is to tell those boys come to Malaysia, tell us what is the play and we will get all those resources in place when you come to town," he says.

Come to Malaysia, Mr Jamaluddin is saying, and we will do our best to make a deal that reflects your needs. We will train people for you, give you the infrastructure you need and make the numbers add up in a way that makes your accountants smile.

"We're offering them a customised service," he says. "You tell us, you come to this country, you tell me what you like. Tell me what other countries are offering and we'll see. The same thing we did to Dell and they decided to come here."
No need to ask from foreign countries lar. I bet most of you all back home want better TMNut Screamyx connection, right?
Also, read more
here
and listen to the podcast
here
also.
p.s. Jeff Ooi's blog is not usj.com.my. It is jeffooi.com.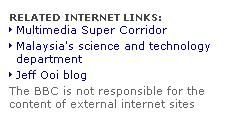 Wrong link, Beebs!