Title ammended to target for more wider exposure.
Forget about the FIFA World Cup. This is far more interesting. It will be on front-page tomorrow.
Garangtee!
UPDATED
: As garangteed, here you go...
We have...theSun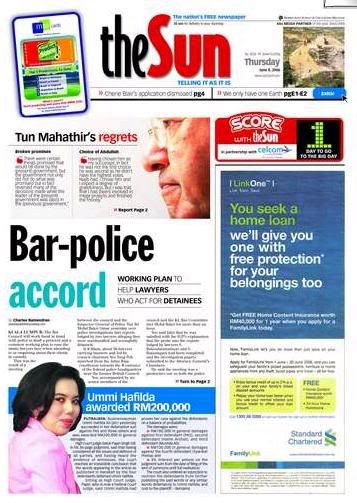 theSun pg.2
The Star...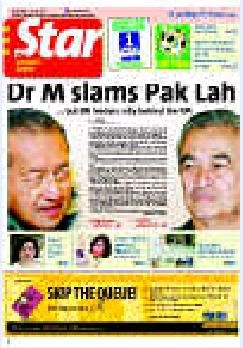 ***
It all started with a warm-up session. I have kept track of the score so far
here
. 'Hair-pulling' and name-calling (which includes 'No guts' and 'Half past six') went on like nobody's business following that.
Then, he decided to
join Uncle Ho
producing VCDs but later denied it.
Then an alternative media 'miracle' happened when he
granted an interview
with MKini.
The another TMM*, not wanting to lose out, tried to hand over an olive branch to try to bring
Mickey Mouse over to Johor
,
mau kasi hantam sama itu jahanam Temasek
. The idea was later dismissed by various parties.
Then, to an audience of mainly teenagers, he openly called on them for a
'terrorism' propaganda
. News spread like wild fire
all over the world
also.
Then,
Parti Absen Selalu
like an opportunistic parasite, quickly hopped on this fracas by tring to
nominate him as an Opposition Leader
. But later the idea was
pooh-poohed
by the man himself.
Asia Times Online
then wrote a brief but rather comprehensive analysis of the tussle.
Then TODAY, supposedly almost reaching the climax of the TMM World Cup, he openly said that the latter TMM was like a 'pariah' because:
1. Not first choice after all!
Do you think Pak Lah has stabbed you in the back?

Minor bruises like saying I finished all their money when I know very well when the country has never been as rich as it is now. Having chosen him as my successor, in fact he was not the first choice, he was second, as he didn't have the highest votes. Najib had. I chose him and I expect a degree of gratefulness. But I was told that I had involved in mega projects and finished the money.
2. "He brokeback broke my pact!"
"But the incoming government not only did not do what was promised, in fact the incoming government reversed many of the decisions made...," the 80-year-old said, adding he felt hurt by suggestions he had spent huge sums of money on mega-projects.
3. "He stabbed my back"4. "I regretted"
"I regretted"
5. It was not blackened out and was even reported in Bernama this time.
To quote:
"But I was told I had been involved in mega projects and had finished the (government's) money."
Maybe he was referring to
this
statement?
Of course
The Man Who Would Be Prime Minister
(Tun M's first choice)
defended his current boss
and as usual, Nazri 'Chameleon' Aziz would not miss the brownie-point opportunity by saying something on it. Here's a cartoon that would best describe the current situation:
"You too, Najib?"
Cartoon from Malaysiakini.
The latter TMM is not lovey-dovey and all pure white innocent also. He had all the mandate to make reforms and changes that the rakyat wants. But he tried to hard to follow his predecessor to become a medic but later turned out to be
T
he
M
edicine
M
an instead.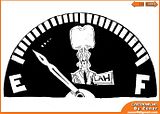 Time's up?
Cartoon from Malaysiakini
.
Now back to the question: Is he really that senile and delusional?Both FIFA World Cup or TMM World Cup at the same time! This could be taxing! But we still love it, don't we?