Yeah, will be at a conference, then off to Oxbridge over the weekend. Will try to get some photos of SIL a.k.a. Hang Putih's (name coined by
KTemoc
) alma mater. ;)
Meanwhile, here are some videos to keep you busy for the moment. Internet access will be intermittent and hence the lack of updates. Nevertheless, feel free to check out my previous archives and visit the wonderful blog-links on the right. Comments will be moderated, so potential potshots can dream on.
The Moment
(courtesy of
sangharimau
)
Tanggal 31
(courtesy of
uglyvideo
)
All the videos below are courtesy of kaycomplex (even though without his/her permission :P)
The National Anthem, Negaraku
The National Philosophy, Rukunnegara
Lagu Sejahtera Malaysia
Setia
Fikirkan Boleh
- how the 'Boleh' tag began...
Ask ourselves:
Are we moving forward or backwards now?
Selamat
Hari
Kebangsaan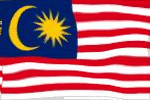 Photo courtesy of Walski of MyAsylum
And if you must insist,
Happy 9th Anniversary to Diana's Passing