After the great
Lord Elie (a.k.a. Prince Hector of Troy)
has shown interest in the great land of Malaysia, yet another 'Prince' followed suit. From
The Age
, Australia: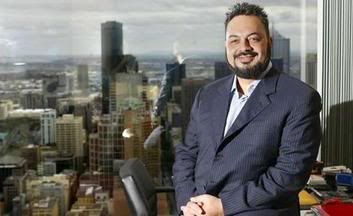 Malaysian police nab 'prince' Omar
A MELBOURNE entrepreneur, who claimed to be a wealthy Middle East prince and then fled the country following a failed business venture, has been arrested in Malaysia.

Omar Yusuf, who owes $9 million to Australian investors in his fleet company On The Go Transport, is being questioned by police over fraud allegations.

The director of Malaysia's commercial crimes bureau, Commissioner Ramli Yusoff, confirmed that the arrest had taken place early on Friday morning after a foreign business associate had alleged Yusuf had defrauded him of $US1.5 million ($A1.9 million) in an oil deal. He has not yet been charged.

The self-styled prince, who once bragged that his wealth equalled that of late media magnate Kerry Packer, left Australia in April last year promising to repay the 80 investors who each contributed up to $250,000 towards a fleet business that did not exist.

By Christmas he had resurfaced in Malaysia, having set up an office in the commercial hub of Damansara.

Yusuf's arrest has coincided with the winding up of On The Go Transport in Melbourne. An application for a liquidator to be appointed will be heard in the Victorian Supreme Court tomorrow.

The Victoria Police fraud squad was at one stage believed to be investigating Yusuf's business activities.

According to petroleum industry sources in Canada and the US, Yusuf had established himself in Malaysia as an oil merchant with ties to the Saudi Arabian royal family. He claimed to be a friend of the King of Malaysia, and the parking space outside his office for his Lamborghini carried a sign indicating that it was reserved for "Prince Omar".

A broker, who asked not to be identified, told The Age he had last year agreed to buy petroleum products from Yusuf for $US90 million. He cancelled the order after learning doubts surrounded Yusuf's identity.

Yusuf once had an office at the prestigious 101 Collins Street and claimed to preside over an empire of more than 200 businesses worldwide, including oil refineries, drug companies and fashion houses. Australian Securities and Investments Commission records show that eight of his locally registered businesses are subject to strike-off actions.

Yusuf was not answering his mobile phone yesterday.
Are Malaysians really that gullible? Take a test by MyAsylum to find out yourselves.